THE STORAGE MANAGEMENT SOFTWARE TO ENSURE YOUR SUCCESS
.
The efficiency of internal logistics processes is increasingly becoming a central success factor. All processes, from goods receipt, storage, transfer and retrieval, to production, order picking and shipment, must be coordinated. In many companies, however, the required overview is lacking. Goods are stored in multiple locations, capital is unnecessarily tied up, and valuable resources are used inadequately to meet market requirements. Fb Industry Automation has the solution. Read more to find out how you can automate your intralogistics.
This fascinating article was published in the Handelsblatt ("Trade journal").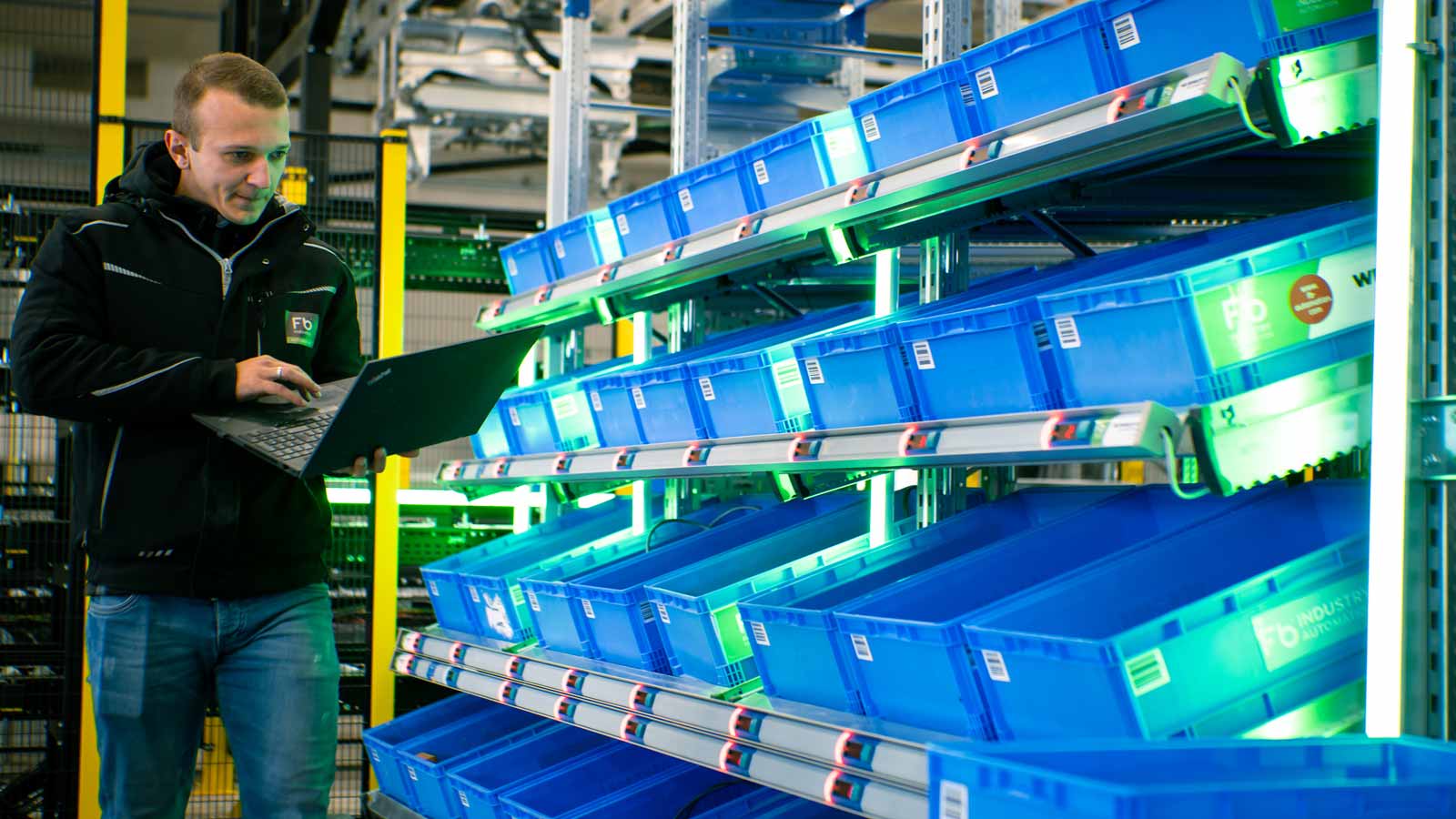 ONE SOFTWARE FOR ALL INTERNAL LOGISTICS
.
Equipped with decades of experience in the logistics industry, the team from Fb Industry Automation developed the innovative Fb Stash storage management system for material flow control, storage automation and inventory management. The high-performance software ties together the individual elements of the Fb 360+ intralogistics complete solutions.
The "+" represents a large number of factors that go beyond the usual market standard. For example, not only do the systems meet current requirements, but also offer companies the option to expand cost effectively and flexibly. Moreover, Fb Stash can also be used to control and automate the entire intralogistics process. Unlike other providers, the storage management software also integrates existing components and all third-party devices.
INDIVIDUAL SOFTWARE PACKAGE FOR EFFICIENT STORAGE LOGISTICS
.
From the smallest projects to major facilities, there is the perfect solution for every application. Even static, non-automated storage can be intuitively managed. This means that the next automation step can be taken quickly and cost-effectively. Customisation, training, service and hotline support complement this unique software. The 360+ project support is always there when you need it. From commissioning to ongoing support and regular system checks, we set the course for a long-term partnership.
The inventory management functions can also be flexibly expanded and adapted to the new conditions. This enables price scalability for the functions that are actually required.
UNIQUE CONNECTION VARIETY & HIGHEST COMPATIBILITY

.
The connection variety ranges from Automated Guided Vehicles (AGV), storage and retrieval machines (SRM), logistics shuttles and conveyor technology to transfer trolleys, lifters and other hardware components. Fb Stash can also be connected to one or more host systems. The software thus serves as an integration platform for a variety of storage IT systems.
From the very beginning, Fb Stash functions were designed as a package, making holistic optimisation of the material flow possible.
Book your free, non-binding initial analysis now and learn more about your individual automation potentials.
Customised small parts workstation connections are an essential element for maximum performance of an automated small parts warehouse (AS/RS). Working together with you, we adapt the picking workstations for the Fb Compact Warehouse (our AS/RS) to suit your specific needs.
Find out more »
Find out more about the possibilities of an automatic small parts warehouse as a replacement for an outdated storage and retrieval system. The Fb Compact Warehouse at Magna in Graz ensures highest possible cost efficiency with 19.000 storage locations. Magna is the world's leading brand-independent engineering and manufacturing partner for automobile manufacturers.
Find out more »