SMALL, BUT POWERFUL! LOAD CARRIERS


FOR YOUR INTRALOGISTICS SUCCESS

.
INTELLIGENT, EFFICIENT, SUSTAINABLE: THE IDEAL LOAD CARRIER FOR YOUR STORAGE LOGISTICS.
Systematic coordination of staff and goods within intralogistics to make them a coherent unit comes with its fair share of challenges. Successful internal logistics requires implementation of a series of strategies and processes that make the transportation of goods within a company as efficient as possible. Selection of the correct container system is of the utmost importance when ensuring things run smoothly. As a core element, it is the fundamental infrastructure for powerful, networked storage logistics.
Choosing the correct load carrier is extremely important in automated systems to ensure that warehousing and goods turnover are rendered as productive as possible. Warehouse containers also act as information carriers. As an example, these transfer data regarding the contents, the number that are loaded, the current requirement as well as the storage and target destination with the aid of barcodes, RFID or similar technologies.
No time to read the whole article?
IMPORTANCE OF LOAD CARRIERS FOR EFFICIENT, SAFE STORAGE LOGISTICS
.
Container systems are used for storage, transport and protection of goods in various stages of the delivery chain. From a simple small parts warehouse to highly automated production and logistics systems, every solution must be customised to the specific requirements of your company. Comprehensive and thorough analysis of your requirements is indispensable when it comes to implementing an effective, cost-efficient container system. Our storage logistics experts would be delighted to help you.
Containers as load carriers are proven within internal logistics. They can be reused whilst being light and robust. However, not all containers are the same as many different properties such as the material, dimensions, height, reinforced base for heavy weights etc. bring about important differences. The ideal solution satisfies all requirements in terms of processing, handling, distribution and picking procedures.
Many sectors demand certain requirements of the load carriers used. Particular care should be taken when storing and transporting hazardous materials as one example. Special, proven and certified transport and storage boxes are suitable for this. Certain specifications must be observed with the temperature-regulated transportation of pharmaceutical and food products. When storing electronic components, then ESD containers, which provide protection against electrostatic discharge, are required.
The container system that fulfils your requirements depends heavily on the industry and also the goods you want to transport. As a result, a wide range of factors are relevant for this decision. No need to worry, we'll be glad to help and advise you on the right load carrier for your needs.
FINDING THE RIGHT WAREHOUSE CONTAINERS: EFFICIENCY, PROTECTION AND FLEXIBILITY IN INTRALOGISTICS
.
In an initial step, we determine the exact purpose and the areas of application when selecting the right container. Amongst others, the following questions are relevant for analysis:
In which corporate divisions are the warehouse containers used?
Should they provide special protection against damage or dirt during transport or storage?
Do you want to also use the same storage boxes for order picking?
If the containers are put on conveyors should they also run quietly in addition to being dimensionally stable?
Depending on the goods and the operation site then the warehouse containers may also have to satisfy certain hygiene requirements or withstand weather conditions, temperature changes or similar matters. The choice of material is therefore an important factor when deciding on suitable container systems. Particular focus should be paid to this if determining the suitability for heavy loads or for special loads such as alkalis, acids and oils.
Another criterion that must be borne in mind with storage and return shipments is the flow of goods. The available space should be used as efficiently as possible. In particular, containers that fold, collapse, nest and stack up such as folding boxes, reusable containers and U-turn rotary stackable containers are eminently suitable.
A nestable container means that when empty, it can be stacked within other containers (nested), meaning that they can be stored and save on space. Compared to non-nestable load carriers, such containers can save up to 70% of storage space. They are frequently used as transport and storage boxes, for valuable cargo or in order picking. They also act as a sustainable alternative to disposable packaging. When loaded, nestable load carriers cannot be stacked as this may lead to the contents being damaged.
On the other hand, stackable containers mean safe, stable stacking when loaded or not, making them ideal for transporting goods. However, space may be wasted with empty stackable containers. In contrast, nestable containers are stored within each other when empty, saving on space. In contrast, nestable containers are stored within each other when empty, saving on space. Rotary stackable containers, which are covered in more depth in the article, can be nested and stacked. Turning them 180 degrees means they have both properties.
After clarifying the properties of the containers then it is necessary to establish the capacity, measuring system and the exact internal and external dimensions. As an example, the measuring system for the Euro box is customised as 1200 x 1000 mm (ISO) and 1200 x 800 mm (Euro pallet). Standard container sizes are determined or broken down based on this area.
Before using warehouse containers, it is necessary to define how frequently and for how long the storage boxes are used. Whilst quality materials are more expensive, they are more durable and stable. . Length and crosswise dividers as well as insert boxes also provide practical options for separating different goods within the container and to protect these against damage or improper use.
The last step involves determining the number of warehouse containers as well as the size of the warehouse and the required storage density. This rough procedure helps us to work together and find the container system that is perfect for your company.
WAREHOUSE CONTAINERS AND TRANSPORT BOXES – WHAT TYPES ARE AVAILABLE
?
The range of container systems available vary as much as the companies that use them. Large containers and pallet cages are used for transporting large items as well as pallets. Euro standard boxes, containers or crates are used for transporting smaller items. These are standardised warehouse and transport containers made out of polypropylene (=a thermoplastic material), that are provided by the Verband der Automobilindustrie (VDA – German Association of the Automotive Industry). They are available in various sizes and are used in practically every industry.
The following sections provide you with an overview of common container systems. Our experts can provide further information and notes regarding special versions on request.
LOAD CARRIER INTRALOGISTICS FOR LARGE PARTS

.
Various load carrier types are available within intralogistics for transporting and storing large parts. The most widespread include the classic Euro pallets made of plastic or wood, as well as Euro pallet cages. Many industries, companies or sectors also have specially designed systems for carrying large loads.
Pallets are one of the most commonly used load carriers within intralogistics. They consist of a flat, rectangular platform and are used to provide support whilst transporting large, heavy goods. Pallets are available in various sizes and load-bearing capacities and can be moved using forklift trucks, pallet trucks or other equipment.
Pallet cages, also known as mesh containers, are robust metal containers with mesh grid walls. They provide a stable structure and enable stored parts to be ventilated. Pallet cages are very suitable for transporting large, heavy or bulky parts. They can be stored on shelves or be stacked together.
Large containers are specially developed containers or pallets used to transport and store disproportionately large or unusually shaped parts. Depending on requirements, they can be adapted to the specific dimensions of the parts whilst ensuring safe storage and handling.
PLASTIC CONTAINERS FOR AUTOMATED STORAGE OF SMALL PARTS

.
Reusable small load carriers made of plastic such as folding boxes and Euro stacking containers of differing sizes are ideally suitable for use on conveyors due to their low weight, robustness and ease of cleaning. Their design ensures that they run with little friction, quietly and ergonomically. The tolerances upon bending the base of the container are very low, meaning that compliance with heights and widths as well as the use of correctly-fitting inlays (=inserts, separators) are readily possible.
A wide range of colour coding options means the containers can be quickly and easily identified. In addition, they can be seamlessly linked to paperless and semi-automatic picking systems. This does not just improve the cost-efficiency of your storage logistics; it also ensures transparent and reliable movement of goods.
Compared to manual systems, automated small parts warehouses such as the customised Fb Compact Warehouse provide better performance and a more efficient flow of materials. Goods are automatically stored, redistributed and outsourced with plastic containers. This gives you a full overview of your storage logistics.. Picking and transportation from previous and subsequent steps is quick and accurate.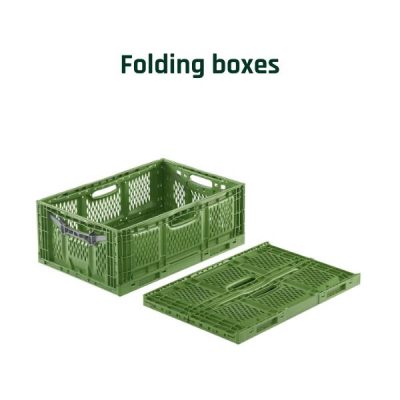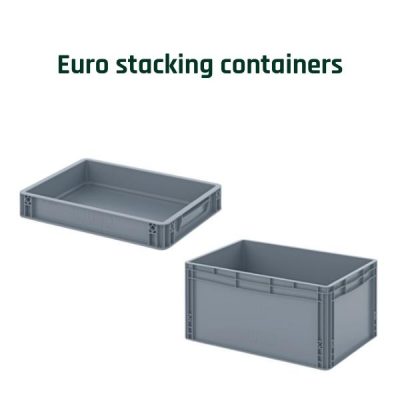 TRAYS AND CASSETTES – PROVEN TRANSPORT AIDS FOR NON-CONVEYOR GOODS

.
Trays or cassettes are flat, rectangular containers or racking levels that are used for storage and transport of small goods or goods that cannot be placed on conveyors. They can be made of various materials such as metal, plastic or wood.
Cassettes are regularly used in shelving systems to make best use of the available space and to provide efficient organisation of goods and products. They help store, sort and transport objects if these are in a warehouse, distribution centre or a production area.
The cassettes can either be manually moved or be moved using automated systems such as storage and retrieval machines or intralogistics shuttles. The use of cassettes ensures an organised, easily accessible storage of products. This improves the efficiency of intralogistics processes.
Trays are available in various sizes and designs. They are individually adapted depending on the requirements and specifications of the relevant intralogistics system. They are often used in combination with containers, crates or pallets to maximise storage capacity and to ease handling or sorting of goods.
Four examples of trays in different designs are shown in the following section.
OTHER CONTAINER SYSTEMS FOR SMALL PARTS

.
Shelf storage or open-fronted storage for small parts, and storage for simple manufactured parts have been developed for manual handling. Shelf storage options are available in different forms, colours and sizes. They are also useful in order picking or production, ensuring that items are readily accessible. The small parts can be stored in a space-saving manner that is easy to follow. Open-fronted storage is extremely suitable for making stock control, stacking or order picking easier. Storage containers for simple manufactured parts also combine the benefits of shelf storage or open-fronted storage. These are ideally adapted for common types of racking whilst providing a convenient opening for inspection and retrieval.
Rotary stackable containers are special containers that are used in intralogistics for the storage, transport and organisation of goods. In contrast to traditional containers, rotary stackable containers have the feature that they can be rotated on their vertical axis.
Rotary stackable containers are usually made of durable plastic and can be stacked. They are either rectangular or square and come with handles or recesses for ease of handling. Their special design means they can be nested and stacked. They combine all benefits in one container. If the container is rotated 180 degrees, then it changes function. As an example, the containers are initially nested and then become stackable after rotation. Filled containers are safely stacked via the inside edge, ensuring that the contents are safe. Pushing empty rotary stackable containers reduces the storage volume. This reduces costs during storage or when returning empty containers.
HOW TO HANDLE THE DYNAMIC REQUIREMENTS OF INTRALOGISTICS

.
Intralogistics is not a static process that is handled only once. It changes continuously and must be able to respond to new requirements. Selecting the right container type is of the utmost importance. A large range of standard load carriers as well as customised containers helps ensure that storage logistics are efficient.
It is certainly helpful to obtain advice from an expert beforehand. This means it is quicker to identify the solution that best covers your specific requirements. Major aspects or future development goals are far too readily ignored. Nowadays, container systems are as varied as customer requirements. Whether it is automated warehousing, transportation or order picking – a wide range of container systems are available and each concept should primarily focus on serving the needs and requirements of your company.
As well as using suitable container systems, appropriate use of transport tools such as conveyor technology, pallet trucks and forklift trucks are also part of ensuring a smooth flow of goods. The correct combination of all logistics components is the foundation of ideal work processes. They result in considerable cost savings and also make best use of available storage space. Ultimately, the key thing is that your logistics are efficient and that you can benefit from practical advantages. These become apparent in the form of increased productivity, increased customer satisfaction and improved cost-effectiveness of your company.
The Fb Industry Automation team specialises in analysis, design and implementation of customised complete intralogistics solutions. Our systems are also flexibly scalable. If the underlying conditions change then we adapt individual elements so that you can get the most out of your internal logistics at all times.
For the new A321 XLR long-haul aircraft, Airbus is looking to automate production by using the innovative, flexibly scalable Fb Compact Warehouse (=automated small parts warehouse) from Fb Industry Automation. Manufacture of the rear fuselage in the new assembly hangar in Hamburg takes place with the customised automated small parts warehouse.
The Fb Compact Warehouse is flexibly scalable incl. upstream and downstream conveyor connections to incoming/outgoing goods as well as material flow control.
Find out more »
Since its establishment in 1997, LEHNER electronics has stood for quality and reliability in the areas of cable systems and the manufacture of electromechanical assemblies.
The Fb Compact Warehouse, a tailor-made Automated Small Parts Warehouse (AS/RS) in connection with the Automed Guided Vehicles (AGV) are the heart of the new building. Thanks to the good partnership, all of the customer's wishes and requirements could be perfectly implemented.
Find out more »
Find out more about the possibilities of an automated small parts warehouse with different rack heights. In order to be able to use the space available at NAGEL Maschinen- und Werkzeugfabrik GmbH in the best possible way, the Fb Compact Warehouse was individually developed and implemented. Small parts up to 120kg can now be transported automatically with shuttles and picked with maximum performance.
Find out more »