Tailor-made automatic small parts warehouse (AKL) with different shelf heights and connection to automated guided vehicle systems (AGV). ​
LEHNER ELECTRONICS


AUTOMATED SMALL PARTS WAREHOUSE

.
Since its establishment in 1997, LEHNER electronics has stood for quality and reliability in the areas of cable systems and the manufacture of electromechanical assemblies.
In-house production as well as modern cutting-edge machinery make fast processing of highly complex orders, from small quantities to medium-sized series production, possible in the best quality. Close customer relationships are as important to LEHNER electronics as the careful selection of partners. Cable systems, membrane keypads and plastic housings – the company provides efficient solutions in everything, from product development to design, all from a single source.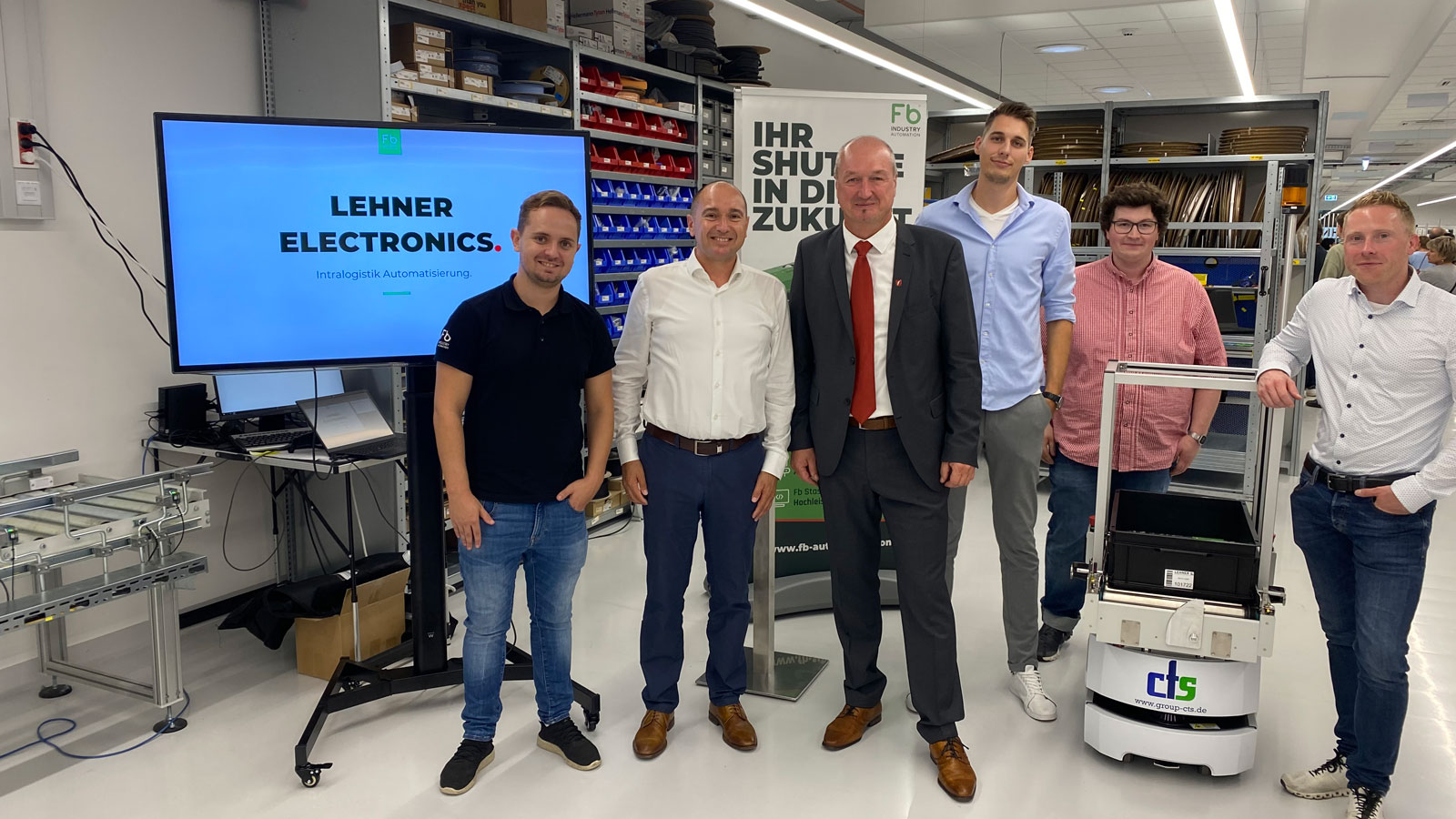 INITIAL SITUATION & PROEJCT AIM

.
A majority of manual work steps, low space availability, not enough work areas and storage space, and time-consuming warehouse processes.

Small production hall with work method similar to manufacturing, meaning a single employee was responsible for the entire work process of a product.

Production capacities in Großhöflein, Austria and Nagycenk, Hungary could no longer cover market demands. They were to be significantly expanded and made fit for the future with a modern new building allowing for automation and digitalisation of the internal processes.
PROJECT REQUIREMENTS & CUSTOMER EXPECTATIONS
.
Automation of the manual work and warehouse/storage steps.

Customised Fb Compact Warehouse, an automated Small Parts Warehouse (AS/RS) with intralogistics shuttles as the transport medium for loads up to 120 kg per storage rack channel.

Different shelf and level heights for container storage and a separate storage area for bulky cable drums. The different shelf heights aim to make optimal use of the available space.

Connection of the Fb Compact Warehouse with the external workspaces using Automated Guided Vehicles (AGV), hence automating supply of these workspaces.

Control of the entire intralogistics with the Fb Stash high-performance software, allowing for maximisation of the intralogistics efficiency and monitoring.
CUSTOMER BENEFITS OF THE 360+ Fb COMPLETE SOLUTION

.
The Fb Compact Warehouse was designed and implemented as an automated small parts warehouse (AS/RS) for LEHNER electronics.

The requirements for optimal space utilisation and integration of the existing software and order-picking processes were successfully implemented, as well as the connection of an order-picking warehouse.

Therefore, also goods-to-person workspaces as well as interfaces to incoming goods and production are integrated and operated.
Fb COMPACT WAREHOUSE
AUTOMATED SMALL PARTS WAREHOUSE (AS/RS)
5.096 storage locations.
9 m height, 55 m length, 4 m width.
160 m conveyor technology.
4 different container heights (170 / 325 / 525 / 660 mm).
Container dimensions: 600 × 400 mm.
2 weight classes (60 / 80 kg).
SYSTEM AND WORKPLACE CONNECTIONS
7 IN / OUT zones.
System elements:
15 work areas.
1 order-picking area.
1 electrical end test.
1 small parts incoming goods / outgoing goods area.
2 manual incoming goods / outgoing goods areas for rolls, cable drums.
2 Automated Guided Vehicles (AGV) connect the warehouse with the workstations.
Fb COMPACT SHUTTLE AS A TRANSPORT UNIT
2 Fb Compact Shuttles.
Max. load 120 kg. | Max. speed: 2 m/s.
Max. acceleration: 1 m/s².
Multi-depth storage (up to four levels).
Shelf-level independence for full automation beginning with the very first shuttle.
Flexibly expandable for higher performance and fail-safe operation.
1 high-performance vertical conveyor for transport of the shuttles between levels.
WAREHOUSE MANAGEMENT SOFTWARE
In-house software system for warehouse management, material flow control and storage automation.
Stash is used for control of the following system areas:
Fb Compact Warehouse (AS/RS).
Conveyor technology.
On the software level, Fb Stash is between the machine control (e.g. PLC) and the Orlando Enterprise Resource Planning (ERP) system.
JOHANN LEHNER
Managing Director, LEHNER electronics
"The Automated Warehouse in connection with the driverless transport systems (AGV) are the heart of our extension. Thanks to the good cooperation with Fb Industry Automation, all our wishes and requirements could be perfectly implemented."
DOMINIK KRENN
Project Manager, Fb Industry Automation
"The combination of a classic Automated Small Parts Warehouse (AS/RS) with innovative Automated Guided Vehicles (AGV), fully integrated as a central element of the newly constructed company building, makes this project something very unique in times of otherwise cool hall construction."
Find out more about the possibilities of an automated small parts warehouse with different rack heights. In order to be able to use the space available at NAGEL Maschinen- und Werkzeugfabrik GmbH in the best possible way, the Fb Compact Warehouse was individually developed and implemented. Small parts up to 120kg can now be transported automatically with shuttles and picked with maximum performance.
Find out more »
When does which degree of automation make sense? The unparalleled flexibility of Fb Industry Automation even allows for step-by-step integration of the automation processes into the existing storage logistics. We discuss the best possible approach and the individual service phases with you, taking a customised approach to the requirements of your company.
Find out more »
Rapid developments in the high-tech sector – keyword Industry 4.0 – require automated intralogistics complete solutions with excellent flexibility and scalability. An automatic high-bay warehouse fulfils these requirements and, as a high-performance system, individually adapts to your framework conditions.
Find out more »